The new Cards have landed! Here are the facts….
A full deck: There are now 52 cards; there are 12 brand new cards
Boxing clever: The deck now comes in a box
Ideas to inspire: A set of Ideas Cards inspires the 'player' to get creative with them
Answers on a postcard: We have 2 sizes of card, A6 (postcard) and A7 (big business card)
Spares: There are spare cards so you can build uniqueness into the deck
It's personal: Many of the visuals are very personal to us because we took the photos ourselves. They feature special people and special places.
Thinking Out Loud: We've started to think out loud about each card and document our thinking on video, to build a virtual library of resources
Wanna play: We're hosting a Playgroup to experiment with the deck and uncover more activities and applications
Evolution not revolution: We've been quietly using them for several years and this is the 4th or 5th iteration
Simple, powerful and portable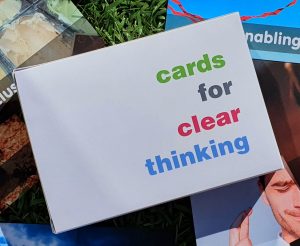 More to follow….